The band is currently recording a new disc! The sessions are happening in Queens, weeks at a time but it is evolving like a crystal, giving it due time. Expect end of Summer... we'll have a CD release show planned, so stay tuned for that...


On a totally different note, a friend mentioned a bit of wisdom from the Dali Lama yesterday... anyone who makes you uncomfortable or angry is actually a teacher to you. See this person teaching you how to deal with an aspect of reality that you aren't comfortable with or can't accept; see how you can act or behave in relationship to it in a better way...


Powered by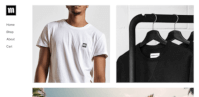 Create your own unique website with customizable templates.